Posted: 02/07/21 by ID Card Centre Ltd
For small and medium businesses, finding an ID card printer that suits them can be a challenge. The all-new IDP Smart 21S is here to present the perfect solution.

The IDP Smart 21S is an intuitive hand-fed desktop ID card printer, designed to be compact and lightweight. If you're looking for instant printing of plastic cards including staff ID cards, visitor passes, membership cards, and discount cards. It's economical to run and perfect to be used on a desktop in a busy office environment.
For quick, quality single sided printing of plastic cards, the IDP Smart 21S is ideal.
High Quality Printing Without Compromising on Speed
Despite its compact size, the IDP Smart 21S features high quality printing with crystal clear lines. With 300dpi quality on full colour prints and up to 1200dpi on monochrome prints, you'll get full coverage with the edge-to-edge printing capabilities.
The high-quality printing capabilities of the plastic ID card printer means that barcodes, contrasting colours, and fine print alike will all remain as crisp, clear, and readable as your original design intended. There's no need to compromise.
It also features fast printing times, so you don't need to wait around for your quality prints. If your ID cards are full colour, you'll only need to wait a maximum of 24 seconds – that means you can print 150 cards an hour. For monochrome prints, it's only 6 seconds, so you can print up to 600 cards every hour.
With an accepted card size of CR80 and a thickness of 0.76mm (30mil) cards, the IDP Smart 21S will print on all industry standard ISO CR80 PVC cards, as well as PET and composite PVC CR80 alternatives.
Simple, Easy-To Use, and Intuitive
The IDP Smart 21S plastic card printer is plug and play, which means it features an out-of-the-box set up. Simply plug it into your computer via the USB cable and turn it on, and using the free EasyBadge Lite software provided (worth £145), you'll be able to print your staff ID cards within seconds.
It also features a simple user interface of 1 button. The LED ring on the button allows the user to easily see the status of the printer without the need to check on your connected device. You can use it on a range of supported platforms, including Microsoft Windows, Mac iOS, and Linux.
Compact and Discreet
The IDP Smart 21S is ideal for usage in busy office or front facing environments, as it is designed to be compact and discreet. Despite its small size, it features a strong interior frame made of metal to ensure durability – and it's still smaller than an A4 sheet of paper, so it won't take up precious space on your desktop. It also features a weight of only 2.7kg.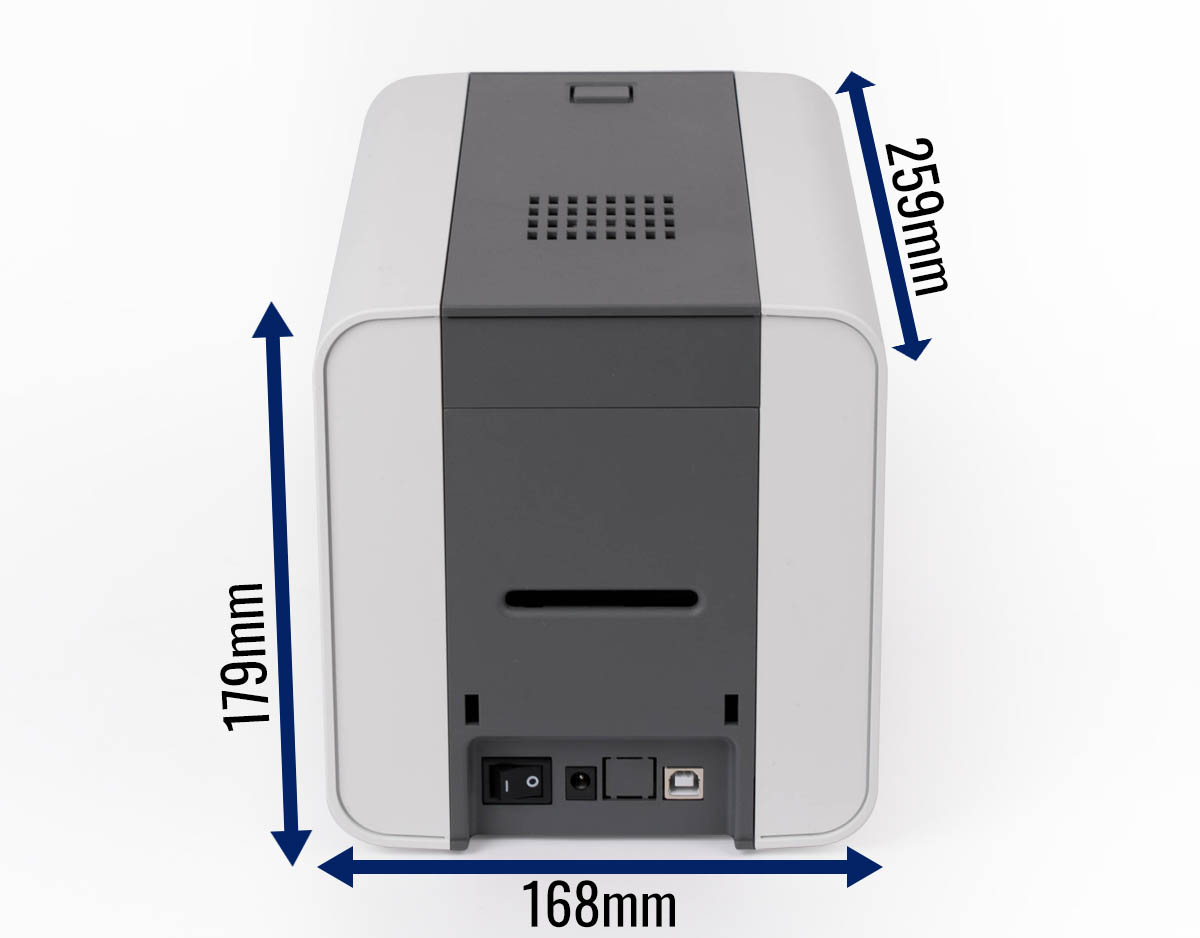 Free Plastic Card Design Software With Every Printer
Each printer comes with free EasyBadge Lite software, worth £145, so you know your plastic cards are designed just as well as they're printed. Created by industry professionals with a wealth of experience, it is simple and user-friendly, so you don't need training of any sort to use it. It also has a free mobile app that allows you to capture photos and edit or print from any off-site location.
Or, for only £150, you can upgrade to EasyBadge Pro and receive a host of benefits, including unlimited records and unlimited databases.
Please note that EasyBadge software is not compatible with Apple Mac operating systems.
Secure UV Printing and Compatible Ribbons
To increase your security, the compatible YMCKO UV ribbon offers a similar feature to the UV security features seen on UK driving licenses. The UV print is only visible under UV light and is ideal for reducing the risk of card cloning and counterfeiting.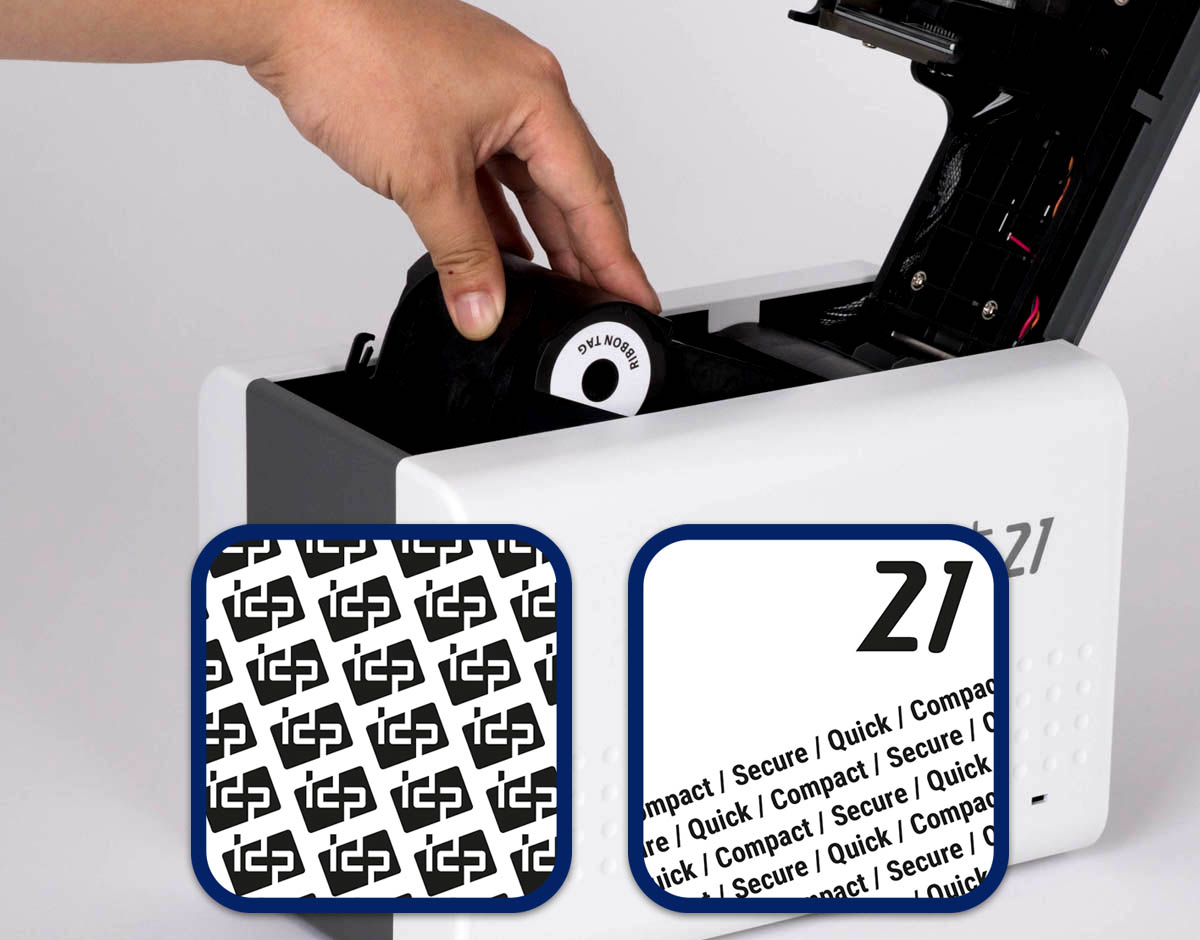 All compatible IDP Smart 21S ribbons are affordable, so even after purchasing the printer, your journey is low-cost and accessible to those on a budget. They're easy to install in the printer, so you'll always be ready to print without having to worry about any downtime.
The IDP Smart 21S comes with 2-year manufacturer's warranty as standard (3 year printhead warranty), along with an option to upgrade to a 5-year warranty, and with a range of features that make it perfect for small and medium businesses across a range of industries, it really is an ideal investment for those who are looking for a low-cost, high quality ID card printing solution.
The IDP Smart 21S printer is available now online, available for next working day delivery, so you'll be able to get printing quickly. It's also eligible for free UK shipping!
If you'd like some more information about the IDP Smart 21S, please get in touch with one of our experts by calling 01604 422 422 or by emailing sales@idcardcentre.co.uk.