Posted: 09/04/21 by ID Card Centre Ltd

Introducing the Magicard Pronto 100 rapid ID Card Printer
The Magicard Pronto100 is the newest printer in a range of great products. It's a small ID card printer perfect for small and large businesses alike, with a special twist making it perfect for use in a home office.
Small but mighty, the Pronto100 focuses on high speed and fantastic quality, whilst being designed with an eco-friendly touch in mind. This ID card printer has been developed to suit the needs of small and medium-sized environmentally conscious businesses everywhere.
Compatible with both Windows and iOS operating systems, the Pronto100 can be used via USB 2.0, USB 3.0, and Ethernet.
Small and Powerful
The Magicard Pronto 100 is small but reliable, with measurements of only 309mm (L) x 208mm (H) x 179mm (W). It's lightweight, coming in at 2.9kg, and that makes it perfect for every environment. If you've downsized or are working from home due to the pandemic, the Pronto100 is perfect for you.
Perfect for desktop use or even on your shop's counter, the latest in the range of Magicard ID printers might have a small frame, but it still focuses on speed, and most of all, quality of prints.

Print Speed and Quality
Featuring different options for print speed and quality, this printer can do anything you want it to. If you want full-colour standard HD printing, each card takes 23 seconds to print in photo quality, whilst monochrome printing takes 4.7 seconds.
The Pronto100 has some new user-selectable features, including the 'High Speed' mode. This allows you to print top quality cards in 18 seconds – perfect when you're in a rush!
The card input and output hoppers have the capacity for 50 cards, and the small ID card printer allows for manual double-sided printing. It features full-colour dye sublimation printing, monochrome thermal printing, and rewritable technology.
Remote User Management
The Pronto100 combined with Magicard's simple Clix interface means it's 100% plug and play.
With Magicard Clix, it's never been easier to use your ID card printer. Clix is a remote user interface that is accessible on PC or mobile and allows for simple remote setup, maintenance, diagnostics and operation. You can also access clear data and statuses of your printer whenever you need, allowing for easily reordering consumables.
Built-in Security
Like other Magicard ID printers, the Pronto100 is equipped with digital security features to ensure your data remains safe after every use, with GDPR compliant functions.
It comes with 3 standard HoloKote® features so you can prevent your ID cards from being copied. Choose from 3 watermark designs to be printed across the surface of your card, or with HoloPatch® cards, one area of the watermark can be highlighted for use a high visibility security seal.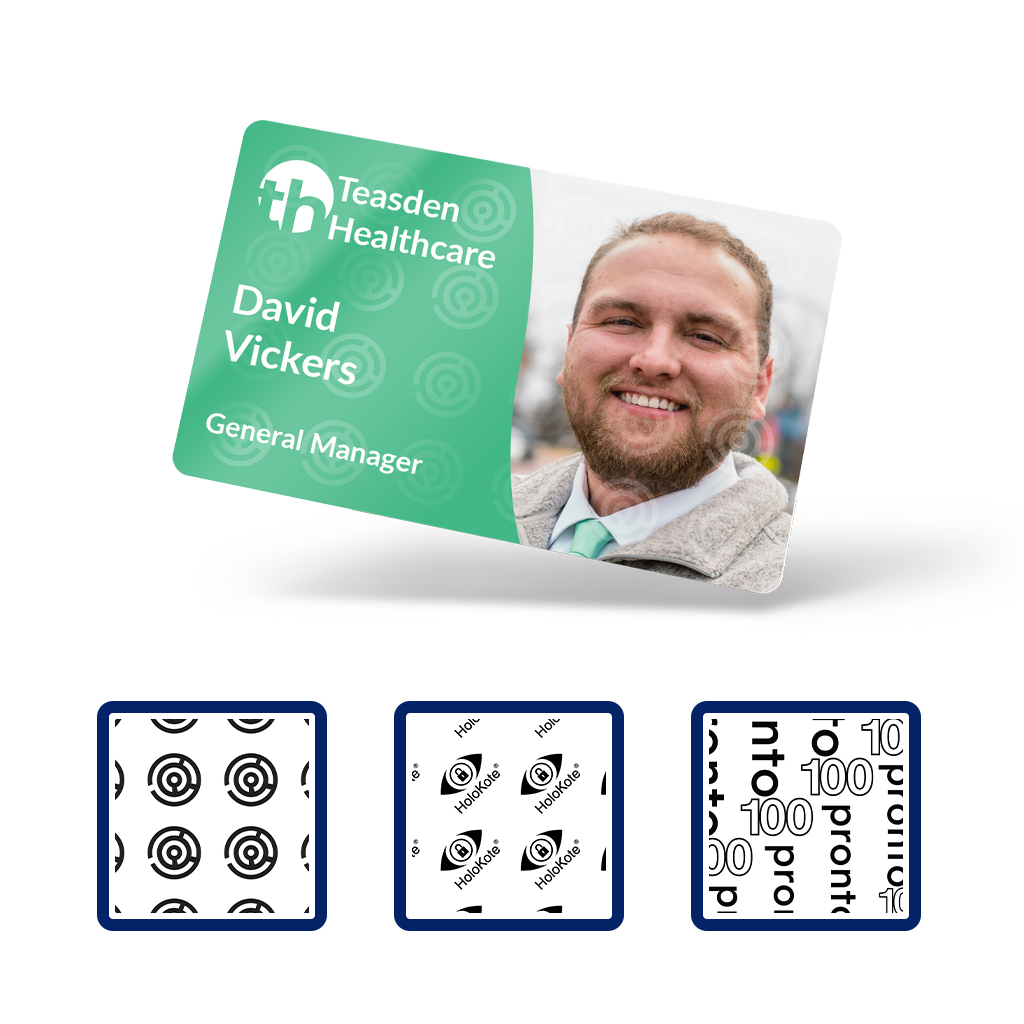 The Pronto100 also comes with Magicard's Digital Shredding feature as standard, so any data that is processed by the printer is destroyed to an unrecoverable state once the print job has completed.
Low Maintenence
The Pronto100 has been specifically designed to be simple to use and require minimal maintenance, so you shouldn't need much support or intervention when it comes to the setup and repeated use of your printer.
Environmental Offset
With the release of the Pronto100, Magicard has announced its intention to aim for even more green initiatives than before. This printer is designed to reduce each device's carbon offset, and by planting one tree per every printer purchased from the company, Magicard are helping to rectify the carbon offset created.
Since entering the scheme, Magicard has planted over 30,000 trees, resulting in a potential CO2 offset of 660 tonnes per year. This equates to a significant portion of transportation for Magicard products worldwide.
The Pronto100 is also manufactured and packaged with over 75% of recycled or recyclable material.
The Pronto100 is in stock and available to order online today. Enjoy same day dispatch when you order before 3 pm!
If you'd like some more information about the Magicard Pronto100, please get in touch with one of our experts by calling 01604 422422 or by emailing sales@idcardcentre.co.uk.