Posted: 06/09/10 by OptiCal Sciences Ltd
OptiCal IT enables local small to medium businesses to thrive in our technology-reliant world. With a team of highly qualified and experienced computer experts, they provide an extensive range of IT support services and contracts to solve any computer-related problems you may encounter.
After many years of supplying and supporting facility monitoring systems, OptiCal Sciences observed an increasing demand for its in house experience to support the IT equipment that they delivered. With technology developing at an ever increasing rate, OptiCal Sciences decided to expand their IT department and have now launched an exciting trading division - OptiCal IT.
With experience in the IT industry, all staff are professional, friendly and excellent communicators. Each staff member is qualified in the relevant technologies and industries, with or working towards Microsoft Certified Professional certification. OptiCal believe that the key to understanding and fulfilling customers' requirements is through effective communication and so they do not like to overwhelm their customers with lots of IT jargon!
Some examples of the services provided include:
IT Support
- Troubleshooting and maintenance for servers, clients and networks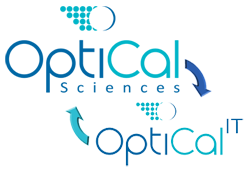 - Expert advice on Windows, Microsoft Office and various other software technologies
Hardware Consultancy
- New installation and upgrade advice for servers, clients and networks
- Disaster Recovery Plan
Software Consultancy and Website Design
- Advice on and development of bespoke software and Customer Relationship Management (CRM)
- Production of functional yet aesthetic corporate websites with search engine optimisation
Training & Development Courses
- A variety of courses to suit various user levels based on Microsoft technologies
Industrial Monitoring Systems
- Advice on, development and commissioning of SCADA -based industrial monitoring systems
- Validation in accordance with 21CFR part 11 and GAMP5 guidelines
OptiCal also has experience in various other hardware and software technologies including Windows Server, Exchange Server, SQL Server, CRM, ASP.NET, VB.NET, C#, Wonderware and much more. With OptiCal IT's extensive experience you can feel safe knowing that your systems are in good hands. For all your business IT solutions, no matter how small or large, remember… Simply OptiCal IT!
For more information please visit www.optical-it.co.uk